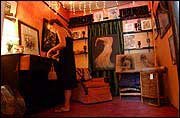 Rebekah Sheridan, Lawrence, one of three owners of The Red Dresser,
a new art gallery/home furnishings shop in North Lawrence, aligns
jewelry on display in the store. Sheridan, her sister Rachael
Sheridan and Brooke Billet opened the store in early June. They
sell their own artwork and refurbished furnishings, as well as art
by local artists, in the tiny gallery at 626 N. Second St.
Stories this photo appears in:
Trio transforms North Lawrence 'mouse hole' into energetic art gallery, The Red Dresser
hey wanted a word that sounded sophisticated and looked pretty on paper. So sisters Rebekah and Rachael Sheridan and their business partner, Brooke Billet, scoured a French dictionary until they stumbled across "redresser," properly pronounced (ray-dres-áy).