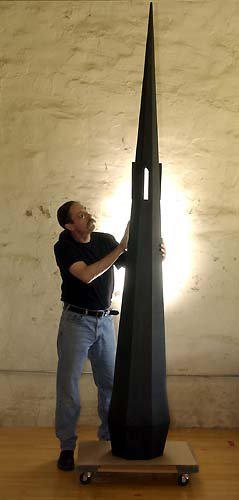 Jon Keith Swindell, a Kansas University professor and sculptor,
sands a wood sculpture in his Vinland studio. The sculpture,
"Sacred Spire/Beyond the Pale," is one of the pieces that will be
featured in Swindell's show at the Lawrence Arts Center from Friday
through July 18.
Stories this photo appears in:
Sculptor uses lighting to reflect on the darkness of war
Growing up in the 1950s, Vinland sculptor Jon Keith Swindell didn't hear the popular, watered-down, romanticized versions of the World War that had occurred in the decade before his birth.