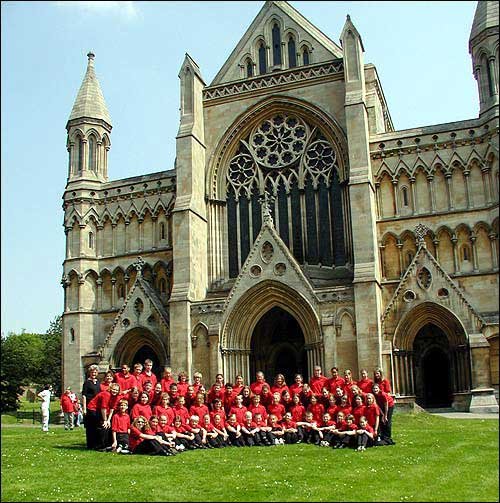 The Lawrence Children's Choir poses for a group photo in front of
St. Albans Cathedral. The group spent a week in late May/early June
singing at historic venues in London. The trip had been scheduled
for the spring of 2002 but was put on hold after the events of
Sept. 11, 2001.
Stories this photo appears in:
It was a tour of serendipity. The magical moments in St. Paul's when the children's voices echoed with a clarity and purity that may only exist when singing in a 17th-century cathedral. Performing to enthusiastic applause at St. Martin in the Fields, built in 1722, and the cathedral in St. Alban's, dedicated in 1155. Sunny (and hot) weather all week long rather than the cold and rain we'd prepared for. An amazingly blue sky. Friendly people.