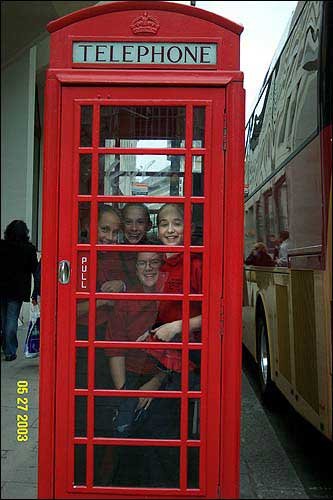 Lawrence Children's Choir members, from left, Jennifer Taylor,
Kristina Taylor, Natalie Rabiola and Lindsay Gauthier clown around
in a London phone booth during the choir's tour in late May/early
June. The choir sang at St. Martin in the Fields, St. Albans
Cathedral and Windsor Parish Chapel during the trip, which
originally was scheduled for the spring of 2002 but was rescheduled
after the Sept. 11, 2001, terrorist attacks made parents
apprehensive about world travel.
Stories this photo appears in:
Lawrence group sang at St. Martin in the Fields, Windsor Parish Chapel, St. Albans Cathedral during tour
It was one of those moments you don't ever forget. The Lawrence Children's Choir had just finished listening to the St. Paul's Cathedral Choir at Evensong in London when they were ushered to the lobby of the centuries-old building to sing a song of their own.