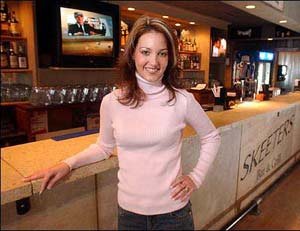 Tricia Higgins is opening Skeeters, a new restaurant at 15th Street
and Kasold Drive. The restaurant will have old, rustic decor with
Internet access and televisions for sports fans.
Stories this photo appears in:
Bar and grill offers gadgetry in rustic setting
A new Lawrence restaurant aims to combine rustic, western ranch decor with the newest technology. Skeeters Bar & Grill, 3300 W. 15th St., is scheduled to open Monday, and its owner, 21-year-old Tricia Higgins, is ready for the challenge.