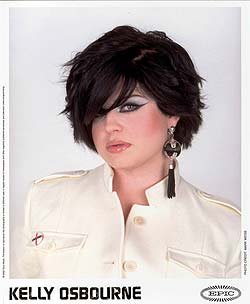 The promo shot.
Stories this photo appears in:
Ozzy's offspring Kelly Osbourne tells America to 'Shut up'
There is probably no family more recognizable in America right now than the Osbournes. Since coming to MTV last year in the popular half-hour reality show "The Osbournes," this foul-mouthed but cohesive household -- led by "Prince of Darkness" Ozzy, his cutthroat manager/wife Sharon, their doughy entrepreneurial son Jack and bubbly (sometimes bratty) daughter Kelly -- has rivaled the fame of the Kennedys.