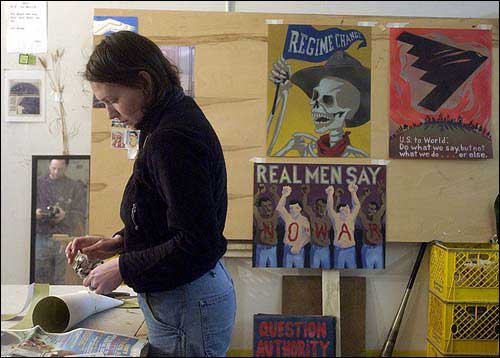 Lawrence artist Dawn Stender works on a papier-mâche skull in an
east Lawrence art space decorated with anti-war paintings. She and
other community artists are creating art to voice their opposition
to war. Stender was part of a group working to create anti-war
artwork Tuesday at David Loewenstein's studio, 411 E. Ninth St.
Below are examples of handbills being circulated by a Lawrence
artist who opposes war.
Stories this photo appears in:
Lawrence artists craft a visual anti-war campaign
A young woman dressed in the black-and-patch regalia of punk pieces together cardboard with packing tape. Across the room, a handful of other people tear newspapers into strips and paste them to inflated balloons. Serene music plays beneath the hum of their conversations.