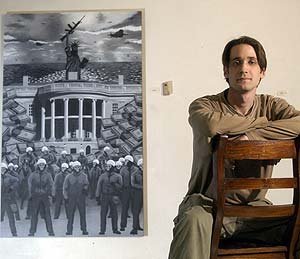 KU student artist Matt Ridgway has created a painting called
"Homeland Security" in response to the atmosphere of impending war.
The painting is located at the Grimshaw Gallery, 731 N.H.
Stories this photo appears in:
Lawrence artists craft a visual anti-war campaign
A young woman dressed in the black-and-patch regalia of punk pieces together cardboard with packing tape. Across the room, a handful of other people tear newspapers into strips and paste them to inflated balloons. Serene music plays beneath the hum of their conversations.