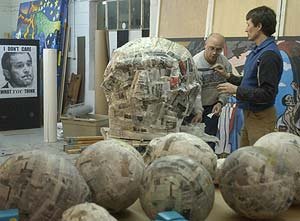 Lawrence artists Stan Weil, left, and Bob Gent apply paste to a
giant paper machet skull. Both Weil and Gent object to a war with
Iraq and are using art as a means of voicing thier dissent. On
Tuesday, the two Lawrence residents teammed up with other community
artist in David Lowenstein's studio to create skulls, seen in
foreground, which will be used during upcoming war protests
Stories this photo appears in:
Lawrence artists craft a visual anti-war campaign
A young woman dressed in the black-and-patch regalia of punk pieces together cardboard with packing tape. Across the room, a handful of other people tear newspapers into strips and paste them to inflated balloons. Serene music plays beneath the hum of their conversations.