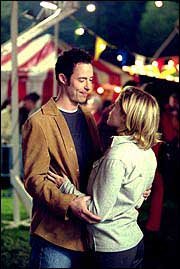 Tom Cavanagh as Ed Stevens and Julie Bowen as Carol Vessey appear
in a scene from the NBC series "Ed," in this 2002 publicity photo.
"Ed" is among several primetime entertainment shows awaiting word
whether they will be renewed for the fall 2003 season.
Stories this photo appears in:
Shows like NBC's 'Ed' wait to hear about renewal
This is the week that Jon Beckerman and Rob Burnett, executive producers of NBC's "Ed," find out if their creation died with a kiss or whether the romance will continue.