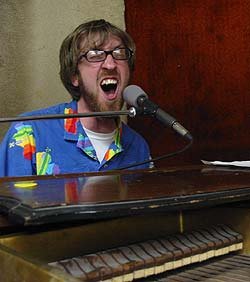 Stories this photo appears in:
'Born Dead' trio gives bloody baby new life
Midway into recording their third album, the Hardaways developed a saying to describe their recording process. "We'd get to the 50th take and say, 'Let's kill this baby,'" said lead singer and guitarist Jeff Ferrell. "The song is your baby and you love it, but after 50 takes you start to hate it. You want it to be done." The saying stuck, and after playing around with various connotations - "'Pregnant With A Dead Baby' didn't work," explained drummer Andy Bricker - the Hardways found a fitting title for their third album: "Born Dead."