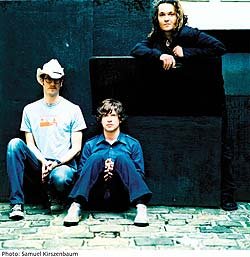 Nada Surf is Daniel Lorca, Matthew Caws, and Ira Elliot
Stories this photo appears in:
Former MTV buzz band Nada Surf reclaims momentum after years away from the limelight
Popularity almost cost Nada Surf its career. More specifically, it was the song "Popular." The hit single, which featured spoken lyrics culled from an Eisenhower-era dating manual, had just the right mix of irony, angst and catchiness to become an MTV staple during 1996. But it also painted the Brooklyn-based trio as something of a one-hit wonder -- and, in many people's minds, a one-trick pony.