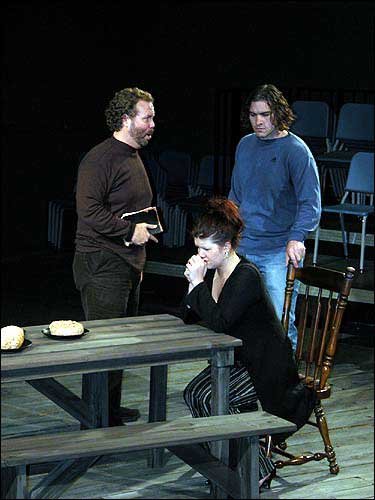 From left, Stanford Felix as the Rev. Hale, David Lara as John
Proctor and Lindsey Poling as Elizabeth Proctor, rehearse a scene
from the operatic version of Arthur Miller's "The Crucible." Kansas
University Opera will stage the show in the Black Box Theatre
beginning Saturday.
Stories this photo appears in:
Fifty years ago, playwright Arthur Miller detected in the madness of McCarthy era anti-Communism a link to the crazed witch hunts of 17th-century Salem. He crafted a drama about the accusations, trials and mania in 1952 and called it "The Crucible." The tale of the destructive power of socially sanctioned violence brought about by paranoia was intended as an allegory about the House Un-American Activities Committee's anti-Communist hearings.