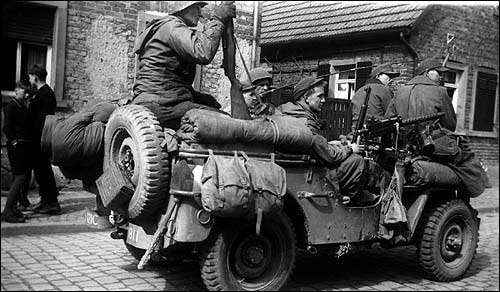 From left, Harry Goldsmith, Lawrence Czarnota, Cecil New and Glenn
Kappelman bring two captured Germans, sitting on the front hood,
into a Main River village. The photo was taken March 28, 1945, east
of Offenbach, Germany.
Stories this photo appears in:
Lawrence vet transforms smuggled WWII photos into book
After my mother died, in the house where we grew up, my sisters and I found boxes and suitcases jammed with memorabilia from World War II. There were letters, postcards and photos sent from our father to Mom, and, after Dad was discharged because of injuries, notes and cards from his brothers to keep him in the know.