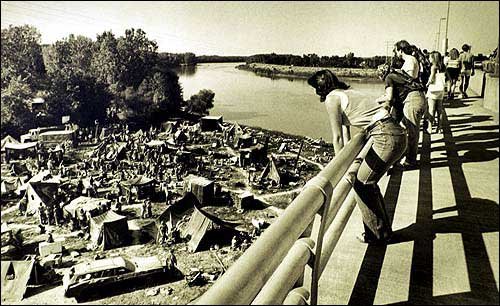 People stand on the southbound span of the Kansas River Bridge to
observe the makeshift village "Tent City" during the filming of the
movie "The Day After" in September of 1982.
Stories this photo appears in:
Cast and crew of the TV movie remember how Lawrence coped with nuclear devastation
On Nov. 20, 1983, Lawrence endured fallout from the blasts of nuclear missiles that struck neighboring Kansas City. The area was scorched by firestorms, citizens were vaporized, and those lucky enough to survive suffered the slower effects of radiation poisoning. At least that is what was portrayed in an ABC television movie that became one of the most watched and most controversial events of the decade.