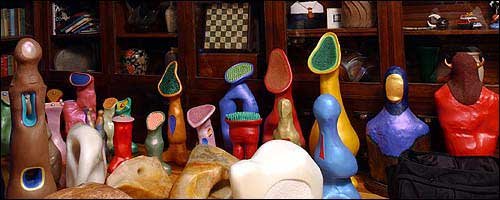 Barry Coffin's sculptures have gone in new directions since 2000,
when he grew bored creating strictly Native-looking art in the
studio and started making pieces in what he calls his Plants from
Other Planets series. Examples like the ones pictured here are
intermingled with contemporary warrior figures in his exhibition at
the Haskell Cultural Center and Museum called "Indian Art in the
New Millennium."
Stories this photo appears in:
Artist and Lawrence native Barry Coffin carries with him a portfolio that doubles as a scrapbook. Inside are photographs of the ceramic sculptor's whimsical American Indian figures, which have evolved over time from bold-featured, cloaked warriors to sometimes featureless, limbless suggestions of the human form.