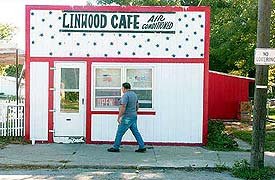 Joe Chaney, a retired electrician who lives a few miles outside
Linwood, enters the Linwood Cafe, 314 Main St., where owner Lianne
Abare serves homestyle meals. Chaney ate lunch at the cafe on
Thursday. Chaney, a regular at the cafe, said he ate there about
twice a day.
Stories this photo appears in:
Every once in a while, it's good to step off the beaten path in your search for someplace new to eat. And, for most people, the Linwood Cafe is off the beaten path.