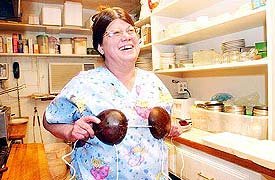 Lianne Abare, owner of the Linwood Cafe in Linwood, displays part
of the costume she wore to a recent Hawaiian-themed dinner at the
restaurant. Every third Saturday of the month, Abare has a special
dinner for customers. She had a luau, which featured shrimp and
whole roasted hog, and drew about 65 customers.
Stories this photo appears in:
Every once in a while, it's good to step off the beaten path in your search for someplace new to eat. And, for most people, the Linwood Cafe is off the beaten path.