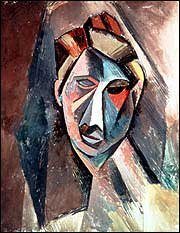 Pablo Picasso's portrait of Fernande Olivier, titled "Bust of a
Woman," is among works for a show to premiere today. "Picasso: the
Cubist Portraits of Fernande Olivier" will appear through Jan. 18
at the National Gallery of Art in Washington.
Stories this photo appears in:
When Pablo Picasso was 27, he spent the summer in a village in his native Spain, drawing and painting odd angles and curves that looked only a bit like his beautiful French mistress. They ended up helping inspire the cubism that defined his career.