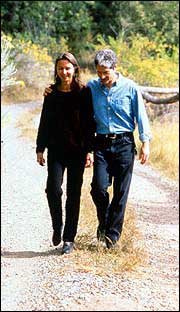 Robert and Rebecca Bluestone of Woven Harmony will perform at 7:30
p.m. Friday at the Lied Center.
Stories this photo appears in:
In her home studio in Santa Fe, N.M., fiber artist Rebecca Bluestone works wizardry with dye. She starts with only a dozen colors. But through an extraordinarily precise measuring system, she's able to create a nearly infinite spectrum of variations to weave into her tapestries.