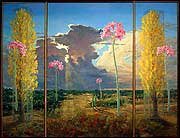 "Naked Ladies," tryptich, oil on canvas, 7x9 feet, John Louder
Stories this photo appears in:
Rick Mitchell never imagined The Kansas Conference on Imagination & Place would take on a life of its own. Inspired by New York poet Robert Kelly's essay "Hypnogeography," the conference has evolved since its debut in 2001. Artists, environmentalists, community activists and scholars will gather Friday through Oct. 19 at Lawrence Arts Center, 940 N.H., to discuss the meaning of place in peoples' lives. The conference -- a collaboration of the Lawrence Arts Center, Kansas Land Trust and Cottonwood literary journal -- combines philosophy, geography and ecology.