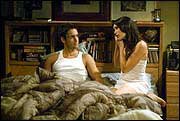 Jay Harrington, left, and Rena Sofer appear in a scene from NBC's
"Coupling." The racy new sitcom airs at 8:30 p.m. Thursdays on NBC,
Sunflower Broadband Channels 8 and 14.
Stories this photo appears in:
Say, Rena Sofer! How do you feel starring in "Coupling," the racy new sitcom that has reveled in publicity (and gotten a good scolding) since NBC announced it last spring?