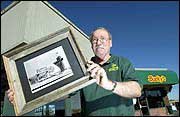 Duane Buck, owner of Bucky's Drive-In, has put the 42-year-old
business up for sale. Buck took over the business in 1966 when it
was Sandy's Drive-In, as seen in photograph. It became Bucky's in
1975.
Stories this photo appears in:
Longtime owners create recipe for success
Fast and hot. That is how Duane Buck says Bucky's Drive In has survived in the Lawrence restaurant industry for 42 years. "The key is just giving people what they want, and around here, that's fast service and hot hamburgers," said Buck, owner of the restaurant since 1966.