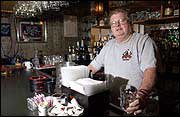 Gary Bartz is owner of Don's Steak House, 2176 E. 23rd St., which
has been open for 38 years. Bartz said Thursday that the key to his
success has been hard work, long hours and knowing what customers
want.
Stories this photo appears in:
Longtime owners create recipe for success
Fast and hot. That is how Duane Buck says Bucky's Drive In has survived in the Lawrence restaurant industry for 42 years. "The key is just giving people what they want, and around here, that's fast service and hot hamburgers," said Buck, owner of the restaurant since 1966.