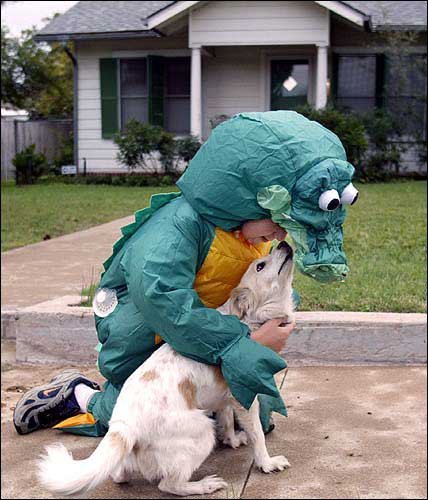 Parker Belcheff, dressed as an alligator, greets a stray dog as he
goes door-to-door helping his sister, Megan, raise money for the
Arlington Heights High School Prom. Not sure what you want to be
for Halloween? Go as kooky as you wish -- originality is key.
Stories this photo appears in:
Want a peek at the nation's psyche? Open your door on Halloween. You'll see adults dolled up as Chicago flappers, toting rhinestone-studded machine guns. You'll hear an "Argh!" Pirates are hot. Miniature Batmen, Spider-Men and Disney Princesses will peer up and chime, "Trick or treat?"