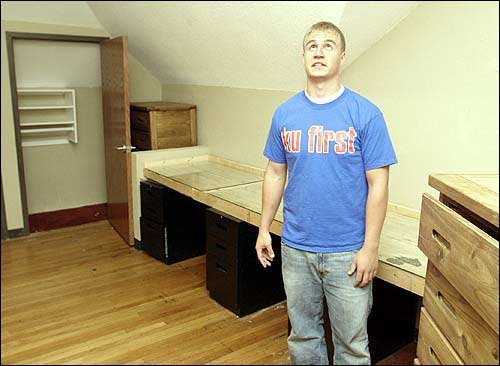 Mike Folkmann, a Kansas University sophomore from Lawrence, used to
live in the "haunted" Bowery room at the Sigma Nu fraternity, 1501
Sigma Nu Place. Legend has it that in 1911 then-Gov. Walter Roscoe
Stubbs found the body of his servant, Virginia, hanging in the
room. Since Sigma Nu purchased the building in 1922, fraternity
members have reported several ghostly sightings. Folkmann said he
had "crazy" dreams while living in the room, which is undergoing
renovation.
Stories this photo appears in:
Legendary ghost story lives on in former governor's mansion
Some just don't want to talk about her. Others mention her in hushed tones, not wanting to seem foolish. And some, like Mike Folkmann, are matter-of-fact about Virginia, the ghost of Sigma Nu. The Kansas University sophomore and some of his friends have had a few unexplained experiences -- flickering lights, slamming doors and troubled dreams -- that make them think there's something to the ghost story.