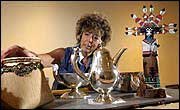 Maria Martin, coordinator of the 15th annual Indian Arts Show
Stories this photo appears in:
Indian Arts Show interprets tribal heritage through contemporary eyes
George Blackwood's Cherokee "granny" used to tell him beads had a life of their own. "They're like little people," she'd say. "What we're doing is putting them together like a community." Blackwood watched as his grandmother joined beads the size of a pencil tip into colorful geometric patterns that conformed to the shape of the feather fans, hand tools or other objects she adorned. Her technique of choice was peyote stitch.