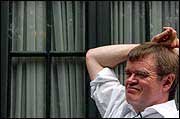 Garrison Keillor, author and radio personality, pauses during an
interview outside his St. Paul, Minn., home Aug. 5. In his new
book, "Love Me," Keillor abandons his fictional hometown of Lake
Wobegon for a funny, sometimes racy story he says is "about 15
percent autobiographical, same as most novels."
Stories this photo appears in:
Garrison Keillor abandons fictional hometown in funny, racy new book
Yes, Garrison Keillor once wrote for The New Yorker, as did the narrator in his new book, "Love Me."