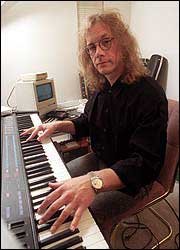 Warren Zevon plays a synthesizer in his West Hollywood, Calif.,
apartment in this Oct. 25, 1989, file photo. Zevon, who wrote and
sang the rock hit "Werewolves of London" died Sunday. He was 56.
Stories this photo appears in:
Singer-songwriter Warren Zevon, who battled death with the same twisted sense of humor found in his songs "Life'll Kill Ya," "Werewolves of London" and "Excitable Boy," has lost his yearlong fight against lung cancer at age 56.