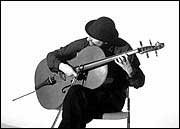 Hillsboro-born cellist Eugene Friesen has returned to his native
Kansas to play a concert at the Lawrence Arts Center, 940 N.H. The
concert will benefit the Prairie Wind Dancers, who have designed
choreography to several of Friesen's songs and will perform with
him during the show.
Stories this photo appears in:
Kansas-born cellist to team up with Prairie Wind Dancers
Hillsboro-born cellist Eugene Friesen's music is rather hard to classify. Music stores typically file it in the new-age section, but Friesen prefers to say his music transcends boundaries.