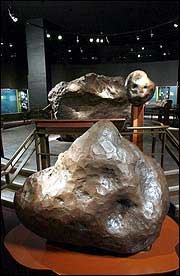 The centerpiece of the newly renovated Arthur Ross Hall of
Meteorites is a 34-ton fragment of the 4.5 billion-year-old Cape
York meteorite that hit Greenland 10,000 years ago. The Arthur Ross
Hall of Meteorites at New York's American Museum of Natural History
is re-opening Saturday, allowing visitors to once again come in
contact with objects as old as the sun. In foreground are two
smaller pieces of the same meteorite, known as the Woman and the
Dog.
Stories this photo appears in:
Visitors have history at their fingertips
Have you ever wanted to touch a piece of the universe? Well, you can.