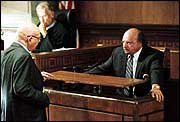 Daniel Benzali, left, William Dennis Hunt, and Dennis Franz appear
in a scene from the season premiere of ABC's "NYPD Blue," in this
undated publicity photo. The cop drama begins its 11th season at 9
p.m. Tuesday.
Stories this photo appears in:
A decade after he first hit the streets, Detective Andy Sipowicz remains tough, tormented and, for millions of "NYPD Blue" fans, irresistible.