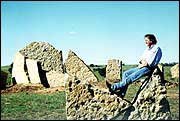 Lawrence artist Stan Herd admires the view from atop stones in
"Prairiehenge," the rock sculpture he's creating on Bill Kurtis'
Red Buffalo Ranch in Sedan. Below, he sets limestone pavers in the
floor of the ellipse that forms where the work's two stone circles
overlap. Herd worked on the piece last weekend in preparation for a
public dedication ceremony Saturday.
Stories this photo appears in:
Stan Herd erects monument to prairie, its native inhabitants
Bill Kurtis used to take visitors to a particularly scenic spot on his Red Buffalo Ranch near Sedan and ask them to remain silent for 60 seconds. "If you listen carefully," he'd say, "you won't hear any man-made sound. You will hear the land speaking to you."