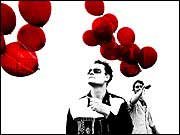 Lawrence residents pass out red helium balloons at a recent Kansas
City First Friday gallery event to promote the Red Balloon To-Do.
The five-venue, multimedia show is scheduled for 6 p.m. Saturday in
Lawrence.
Stories this photo appears in:
Lawrence Art Collective hopes opening inflates city's art scene
If you've ever been to a First Friday event in Kansas City, you know the Crossroads Arts District overflows with art enthusiasts. People spill out the doors of art galleries large and small -- none able to accommodate the influx of bodies clamoring to see new art (and consume wine, beer and cheese, of course).