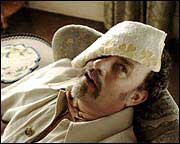 Tom Hanks stars as a Southern professor who is the brains behind a
riverboat casino robbery in "The Ladykillers."
Stories this photo appears in:
O Brother, what do we have here? "The Ladykillers" is the latest broad comedy from quirky filmmakers Joel and Ethan Coen. Following "The Big Lebowski," "O Brother, Where Art Thou?", and "Intolerable Cruelty," it's also the fourth comedy in a row from the Coens ("The Man Who Knew Too Much" being NOT a comedy) that should have been funnier than it is.