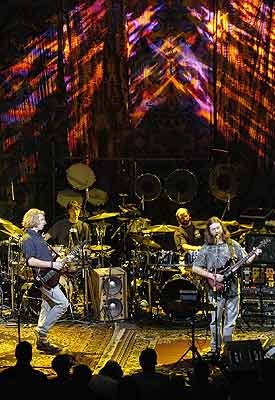 Drummer Rob Koritz, middle, playing the drums
Stories this photo appears in:
Unlimited Devotion
Love 'em or hate 'em, for 150 years the Grateful Dead were arguably the most influential touring act in the world. They gave the concert experience a complete overhaul, and they generated a crossover appeal that has yet to be matched. And they proved that, with enough history, you can get away with anything. The Dark Star Orchestra doesn't so much carry on the Dead tradition as relive it, traveling the golden road of Dead shows past with a pathological devotion and attention to detail. lawrence.com spoke with drummer Rob Koritz during some time off from channeling Mickey Hart.