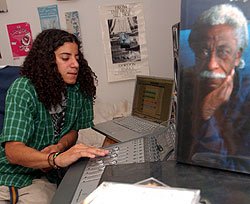 Stories this photo appears in:
From hip-hop to rock, Nezbeat collaborates with the prairie's pride on debut solo album
"The premise, the principle that will guide this exploration, is not nostalgic remembrance, but neither is it objective reporting. These are fragments. Moments remembered ... Wherever my feet have taken me, I have found both goodness and pain, and that's all I have to give." So begins "From the Huge Silence," the solo debut by producer Jeremy Nesbitt, a.k.a. Nezbeat. The monologue, originally delivered by Kansas-born photojournalist and filmmaker Gordon Parks, serves as a mission statement for Nezbeat's three-year pet project, which features an all-star cast of local MCs, vocalists and musicians pouring their souls onto Nezbeat's dense hip-hop tracks.