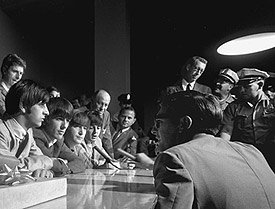 The Beatle's press conference looked more the interior of a police
station. They were surrounded by Philadelphia city officials and
policemen. The performed later that evening at Constitution Hall in
1964. Top ticket prices were $5.50 and the upper balcony seats sold
for $2.50.
Stories this photo appears in:
J-W photographer Bill Snead traveled the world to snap the 50 years worth of photos in his retrospective exhibit
Legendary Washington Post editor Ben Bradlee was talking about his autobiography, "A Good Life," which heralds his adventures as a reporter and editor way before and beyond Watergate.