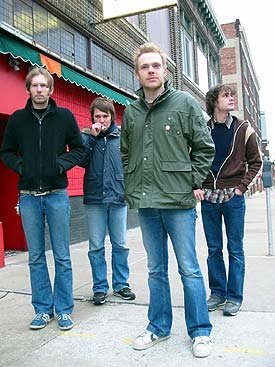 KC's The People -- (L to R) Ryan Shank, Kenn Jankowski, Ben Grimes
and Harry Anderson -- stand outside the Brick, one of their
favorite places to play.
Stories this photo appears in:
Kansas City's The People are nearing a release date for their debut album from Astralwerks Records, and it will most likely be released under the name Populist. That's right, scoop-hungry reader. Apparently a band from the '60s still owns the rights to the name "The People." Still, with a new label, a new record, a new name, and an impending wedding, Ben Grimes can't find anything better to do than talk with Lawrence.com about Springfield, Christian industrial music, and The People's early works.