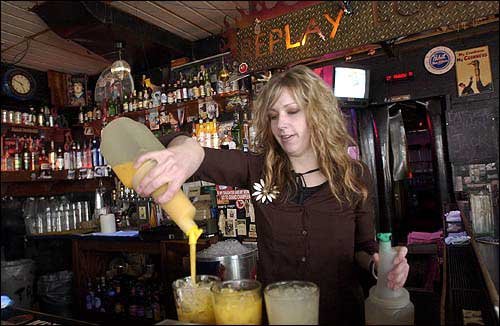 Valerie Taylor -- a Washburn University junior and a bartender at
Replay Lounge
-- serves drinks at the downtown establishment. The city-issued
drinking establishment license for Replay Lounge lapsed last spring
and was never renewed -- in part because city officials got out of
the habit of sending renewal notices to bars. Now the Lawrence City
Commission must treat the 10-year-old bar as if it were a brand-new
applicant. Taylor, who was tending the bar Friday, was hopeful the
bar would keep its license. "I can't be out of a job right now,"
she said.
Stories this photo appears in:
City Hall, bar owners overlooked renewal when due in spring
A goof-up at City Hall has patrons of a popular downtown bar worrying about its future. "The Replay Lounge is a Lawrence institution by now," longtime customer Caterina Benalcazar said Friday. "Them losing their license would mean the end of a key dimension of the Lawrence music scene."