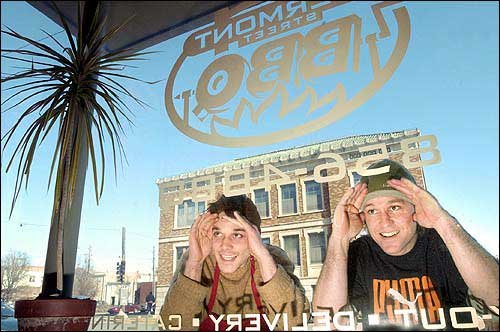 Vermont Street BBQ owners Shad Woodworth, left, and Yale Baker, may
be saying goodbye to their current location at 805 Vt. if they
complete a deal to move to the former Paradise Cafe location at 728
Mass. A deal to reopen Paradise has fallen apart, and the barbecue
restaurant owners are now close to signing a lease on the
Massachusetts Street location, they said.
Stories this photo appears in:
Deal to reopen downtown diner crumbles
Goodbye, hobo eggs. A deal to reopen the Paradise Cafe and bring back local favorites like hobo eggs, farmer's breakfast, Douglas County mud pie and other eclectic menu offerings apparently has fallen apart.