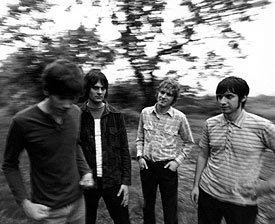 The Waxwings
Stories this photo appears in:
Descent out of madness
Sell your Verizon stock. Their cell phones don't work. But in between the seven (SEVEN!) call drops, lawrence.com managed to have a very nice conversation with Dean Fertita from the Waxwings while he was watching a friend sky dive. We don't know who he was waiting for (Thanks again, Verizon), but between "Hello?" and "Did you get that last part?," we managed to talk about the new record ("Let's Make Our Descent"), Detroit, and "the letter."