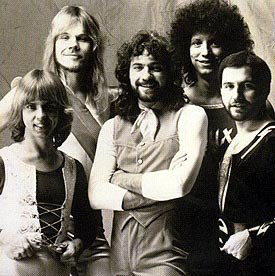 Styx circa 1970, featuring James Young (back left) and Dennis
DeYoung (front center)
Stories this photo appears in:
Chicago-based prog rock band Styx had become one of the most popular acts in America by 1984. But the Styx hit the fan when founding member Dennis DeYoung's vision of the band ran counter to the that of the rest of the band. And it got messy. But after various starts and stops including death, litigation, and debilitating illness, Tommy Shaw and founding member James Young are back at it, touring in support of "Come Sail Away: The Styx Anthology," a 35-song career retrospective. lawrence.com spoke with James Young (JY) at 8:30 in the freaking morning about the new record, the likelihood of a reunion with Dennis DeYoung, and how bitter he's not.