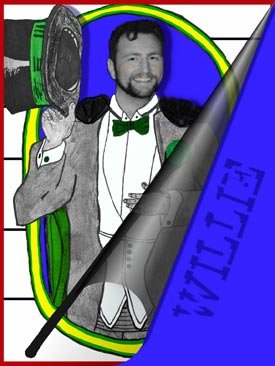 Billy Q. Effinger as "Willie the Warlock"
Stories this photo appears in:
Billy Q. Effinger has never been to Lawrence. But this "fantastic vocal stylist" has left an enduring stamp on our hearts with his unsolicited CD mailer
Billy Q. entered into our lives casually in the virgin days of September. He arrived in a nondescript manila CD mailer, accompanied by a letter from the Duluth Musician's Association (AFL-CIO) informing us that Billy has proven himself to be "a fantastic vocal stylist." According to the letter, the enclosed CD would offer us two songs that were "infectious ... yet wear well upon repeated listening."