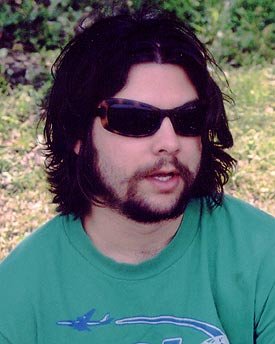 Seth Cole of Lawrence's Filthy Jim recalls his days as a cabbie:
"She told me that she didn't have any fare money, but we could
work something out because it was a long drive across town ... I
always hoped to find a hot sorority girl to do that, but that never
happened."
Stories this photo appears in:
For every great and famous musician who's ever won a Grammy, had a hit single or packed stadiums with lighter-toting superfans, there's no doubt a lowly day-job story to be told. As legend has it, Flaming Lips frontman Wayne Coyne wrote much of the band's early material while slinging hush puppies at a Long John Silvers; Johnny Cash spent three years going door-to-door selling appliances before walking into Sun Studios; Alex Van Halen nearly lost his finger working as a machine operator -- the list is long and frequently hilarious. For Lawrence's elite crop of working-class guitar slingers, day jobs aren't a footnote in some VH1 documentary but rather a way of life.