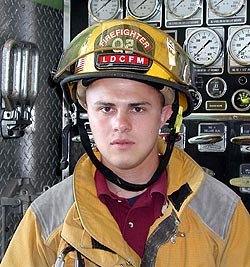 Stories this photo appears in:
Lawrence firefighter saves lives, doesn't make love to Jennifer Jason Leigh
In real life, our childhood fantasies are frequently pushed aside in order to try making a living writing snotty little "stories" about other peoples' jobs instead of pursuing dreams of a cowboy life. Um, for example. But in real life, horses do exist, and some stalwart men and women ride the range rounding up doggies or something. And real-life robbers from lower-income neighborhoods are busted by real-life cops. There are even real astronauts, believe it or not. And some people actually ignore the sphincter-tightening reality that fire is something you run away from. Fast.