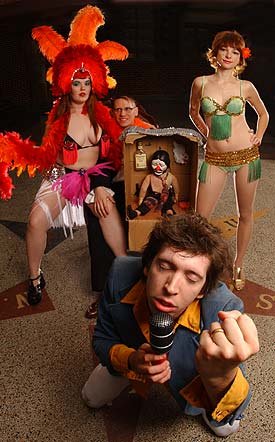 Left to right: Rita 'Miss Temper Tantrum' Brinkerhoff, Gary 'The
Amazing Dr. Incredible' Huggins, Brody 'Mr. Johnny Blow-Chi' Rush,
and Laurel Birdsong Sears as 'Mlle. Mielle'
Stories this photo appears in:
Burlesque gives guys boners. That's the common perception at least. Even under the auspice of vaudeville entertainment or feminist propaganda, burlesque at its most artsy and enlightened can still create blue balls the likes of which strip clubs can only dream. Rita Brinkerhoff is perfectly aware of that fact. "Vintage burlesque was about turning on dudes," she said.