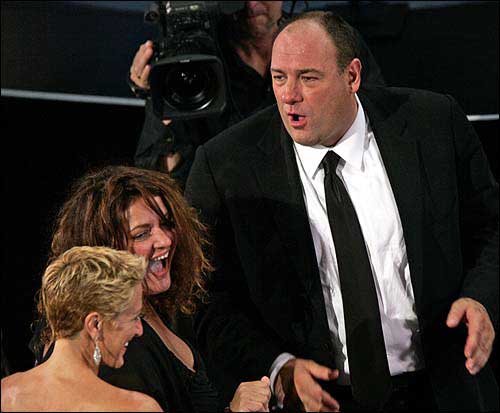 Edie Falco, left, and James Gandolfini, right, failed to win top
actor nods Sunday but were among the cast in the outstanding drama
series "The Sopranos" at the 56th Annual Primetime Emmy Awards at
the Shrine Auditorium in Los Angeles.
Stories this photo appears in:
HBO, exiting characters take home TV's top honors
The Emmy telecast wasn't TV; it was HBO. Or so it seemed, at times, as the premium cable channel racked up the lion's share of the trophies Sunday night, including outstanding dramatic series "The Sopranos," miniseries "Angels in America," movie "Something The Lord Made," lead actor and actress in a movie or miniseries (Al Pacino, Meryl Streep) and best lead actress in a comedy (Sarah Jessica Parker, "Sex and the City").