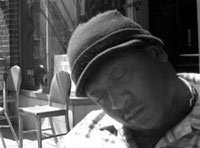 Stories this photo appears in:
KJHK's annual battle harvests fresh fruit from the Lawrence music scene
Like most bands entering Farmer's Ball, The Volunteers have one primary objective. "Hopefully we'll get some fucking phat studio time," says lead singer/guitarist Tyler Jack Anderson, who formed the band just weeks in advance of the annual KJHK-sponsored battle-of-the-bands. Otherwise (our first album) is going to be ghetto," he added.