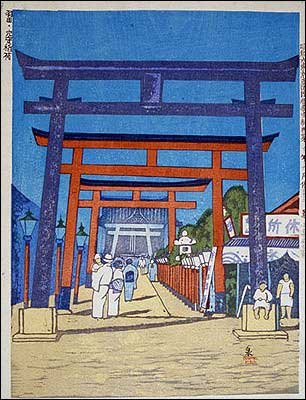 "Anamori Inari Shrine at Haneda, September 1932"
All images are color woodblock prints on paper by Koizumi Kishio and come courtesy of the Wolfsonian-Florida International University, Miami Beach, Fla. Photo gallery with audio commentary: "Tokyo: The Imperial Capital"
Stories this photo appears in:
Woodblock exhibition sheds light on ascent of Japan's imperial capital after quake
The earthquake struck two minutes before noon with devastating force. The midday meal was close at hand, and charcoal and wood stoves were being stoked in preparation. Fires quickly engulfed houses in the congested city, and a strange series of windstorms and cyclones spawned by intense heat and lack of oxygen sped the destruction.